Good news for BorisWatchers and bad news for those who follow the Banner of Red Ken: Boris is definitely running for re-election next time the ballots come around, and isn't looking for his break at the Prime Ministership (Prime Ministerhood?).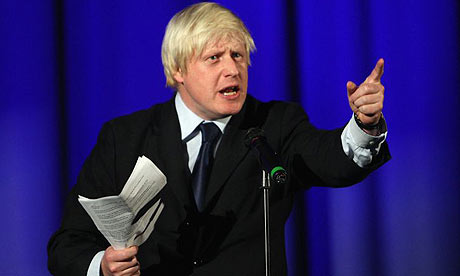 The Standard recently reported that Boris might not run for Mayor again, instead using his current role as a springboard to the Premiership in future years. However, this rumour has been emphatically quashed by Boris, who states that his 'appetite for power is glutted'.
Say what you want about Boris (and believe me, people do), but I think it's hard to deny that he's going to be a great asset when it comes to hosting the Olympic Games in 2012. While you can't judge the worthiness of a mayoral candidate for one job alone, it would be a great shame if he wasn't there leading the country as the torch arrived. As such, it's looking like it's going to be an interesting election next time around, with Boris and the former Mayor Ken Livingstone both looking for another shot at the title. If you thought last year's ballot was interesting, you ain't seen nothing yet.
Underhanded swipe of the week? Immediately after saying how hard the job of Mayor could be, Boris went on to say 'I pay tribute to Ken Livingstone for making it the job it is'. Intentional or not, that's a bit of a burn to Red Ken. Ouch indeed, Boris.